The Conversion Cloud v.4.1.2
What's New
Concession Manager

Creation Date and Offer Id are now available in the main Concession Manager offer screen.

Each is listed below the title of the offer.

Email Template: Insert Modal Link

Insertion of a Schedule Genie or Concession Manager modal link in an email is available.  A user can create a clickable link in each email template to open the desired modal window.

Two elements are required:

In Company settings, a website URL is entered.
In Email Templates, embedding the proper insertion field in the URL link.

Please watch the training video below for this function.

 SMS Opt-In:

Users can now opt-in across multiple widgets

Example: User did not opt-in to SMS during the Concession Manager lead conversion, but then submits a question to the community through Text Us Now. The user can now opt-in via Text Us Now, overriding the user's initial choice for Concession Manager opt-in
Widgets: Zoom Sizing

In Custom Color, Widget Zoom for desktop and mobile is available. For desktop or mobile, or both, you can change the widget size from Full Size to 90%, 80%, 70%, or 60% of the original size. Users have explicit control of widget size and display to best fit their website.

This can be applied to the default or wallet themes. The widget resizes appropriately to the zoom size selected.
Location: Custom Color > Widget Design | Widget Zoom – Desktop and Widget Zoom – Mobile.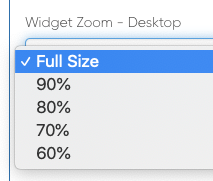 Widgets: Insert Spacer

The insert spacer function is now automated. No need to create custom CSS to create the insert spacer. It automatically creates an 80-pixel space at the bottom of the screen for the widget. This allows widgets to avoid blocking important website elements.

In Customer Color > Widget Design > Widget Spacer — Check the "Enable widget spacer" checkbox.

Notes:

The spacer function is used when widgets are set to the bottom position be it left, right or middle.
Remember to set your spacer background color to best match the website color.
Insert Spacer Feature shown below: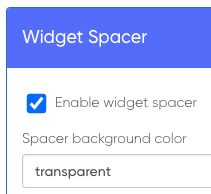 Concession Manager

Ability to clone or duplicate an offer. Located on the main Concession Manager screen, there is now a duplicate icon next to the pencil icon. Click and duplicate an existing offer instantly.

Please note there is still a 25 character limit. When duplicating an offer, it adds the word "Copy" to the title. If you exceed the limit just rename the title.

Duplicate Offer is shown below:

The Conversion Cloud v.4.0.1321
What's New
Availability [Schedules]

Major release updating functionality and design.

Concession Manager & Schedule Genie

Major release updating design only.

Text Us Now | SMS

When SMS messaging is disabled, the "Messages" feature does not display. This provides a better user experience because users are not confused by the Messages to feature availability when it does not function.
After a user clicks the Messages "Lead Details" button, now users can click the Lead Details Page back button and return to Messages. Previously the back button returned a user to the Calendar or List view regardless if you navigated from Messages.
The Conversion Cloud v.4.0.264
What's New
Text Us Now

Optimized the message download for faster performance.
Added preview text to old or closed message threads

SMS:

Updated the default Schedule Genie message to remove virtual tour text.

Updated Message: Thanks for requesting a tour at [companyName]. We'll see you at [appointmentDateTime].

CRM Integrations:

Rent Café – A direct API integration creating a guest card.

Creating an appointment is possible. Dev is currently validating functionality.

Hospice MD – A direct API integration for this Senior Living focused CRM.

MatchBack

Added the move-in date to the MatchBack lead details display and export.
The Conversion Cloud v.4.0.257
What's New
Text Us Now: Updates

Preview Text: New messages now have preview text which displays a message snippet in the Messages inbox.

Note: Version 2 of this feature will apply text preview to old messages.

Move to Inbox: A new button "Move to inbox" is available when a user clicks a message thread in Archived messages. A user can move an archived message to the Inbox to reactivate it. The button displays at the top of the message thread column.
New Messages: Messages display in chronological order. New message display at the top of the inbox.
Leads | Calendar View: Updated Leads and Calendar legends to display "Text Us Now" not "Text Us."
The Conversion Cloud v.4.0.252
What's New
Eldermark CRM Integration

Updated and available for use
The Conversion Cloud v.4.0.240
What's New
California Consumer Protection Act [CCPA]

To comply with CCPA, each widget has a new link on the lead information screen. Clicking this link displays the Conversion Logix privacy notice.
Widget Link Title:  "Consumer Privacy Notice"
Widgets updated: Schedule Genie | Concession Manager | Income Calculator | Best Price Now | Text Us Now

Schedule Genie: Default SMS Message

The Schedule Genie default message is updated to:

"Thanks for scheduling an appointment with [companyName]. We'll see you on [appointmentDateTime]."
This update removes "virtual appointment" from the message.

Live Chat: Start Chat Event

When a user clicks the "Start Chat" button this event is captured and recorded. This provides a more specific method to show how many possible leads are created.
This count is displayed in the Lead List and Calendar view below "Calls" on the far right.
The Conversion Cloud v.4.0.222
What's New
New CRM Integrations

Zoho CRM: Conversion Cloud now supports API integration to the Zoho CRM application.
Eldermark CRM: Updated the integration to include a "Submitted Form" history event. This is required to trigger the automation or submission of the lead to Eldermark.

Micro-Wallet: Optimize Widget Space for Mobile

For the Micro-wallet, the widget size is optimized to 25 characters for mobile. Now the additional empty widget space is removed. This is an estimated 30% reduction in overall width.

If the text exceeds 25 characters, the text breaks at the appropriate location to a second line.

Disable:

In Custom Color > Widget Design – When a user selects the default widget theme, the "Micro-Wallet" checkbox is automatically disabled.

Schedule Genie: Time Zone

`In each Schedule Genie widget screen, if a time is displayed, the time zone linked to the schedule is displayed as well. This provides a more consistent display of time.

Live Chat: Visual Alert

If the Live Chat window is minimized and the chat operator responds, an audio ding and widget blink occurs.
The Conversion Cloud v.4.0.214
What's New
Schedules: 24 Hour Schedule

In Schedules to the right of the "Day Off" toggle, "Open 24 hours" is available. Select this toggle for each day to make it 24 hours straight.

Live Chat: Updates

Lead Export: Live Chat lead export file now includes the chat transcription as well as all available lead information.
Manual Lead Submission: The company dropdown displays all companies with Live Chat enabled instead of only active Live Chat companies.
Schedules: All Live Chat applications now require a schedule.
The Conversion Cloud v.4.0.210

March 27th – August 14th, 2020
What's New
Concession Manager: Customizable Submission Text Button
Users can enter custom text for the original "SUBMIT FOR OFFER" button on the lead submission widget screen.
Updated the email lead notification chat conversation to display correctly and formatted to match the original application chat.
Text Us Now prompts website visitors to text your team directly through SMS messaging. Prospects message through their mobile device and companies can respond and continue the conversation through the TCC dashboard. You can customize when the application is viewable on-site, an auto-response message once prospects confirm the double-opt-in status and the widget call to action.
Schedule Genie: Customizable Submission Text
Users can customize the Schedule Genie confirmation text. This is the text displayed on the final widget screen directly above the appointment date and time.
A user can create their own default qualification questions.
When SMS is disabled, the opt-in text and checkbox is removed and no messages will be sent out. This is for any application that offers SMS.
The web notification bar can display when no widgets are active.
Multiple Concession Manager offers a display in the micro-wallet function. Each offer carousels on display with other applications.
Eldermark CRM Integration
Appointment information is now added when parsed over.
Schedule Genie: Buffer Time
The buffer time is now the actual buffer time. If a user wants a 15-minute buffer between appointments select 15. No longer is the buffer time the appointment time plus the buffer time.
Widgets: Mobile vs Web View
Users can now set which widgets display in mobile versus the web or desktop. The App order section has "Web View" and "Mobile view."
Now when importing a file into MatchBack, Live Chat leads are recognized as a source. If a lead was created in Live Chat, MatchBack can match that result. This Matchback update improves your ability to show value or ROI.
Message: When submitting a manual lead, a success or error message is present to alert the user to submission status.
Email Format: Now the prospect and customer email retain the chat format and structure for better readability.
Added filtering functionality to CLarity reporting including Business Category, DMA, Ownership Group, Property Management Company, Region
The micro-wallet now displays when 2 or more applications are active. Previously the micro-wallet only displayed with 3 or more active applications.
Cancel Appointment: A cancel appointment button is now available on the lead details page.
Appointment Buffer Time: To provide users better understanding and use of appointment buffer, the label is updated and a help icon added.
Custom Message Limit: The "Custom message to prospect" field is increased from 500 to 1,000 characters.
Concession Manager: Updates
New Icon: Users can now choose between two different icons in Concession Manager. Located in the "Offer Details" there is a choice between the default dollar sign icon and the new info icon. Select the one that best suits your offer.
When a user provides SMS consent in one widget, consent is removed from all other SMS-enabled widgets. The Conversion Cloud recognizes the user has already provided consent so it is not displayed again.
Custom Email Subject Line
For each application, you can now customize the email subject line. The email subject is located in Email Settings. If a user does not enter an email subject, the app uses the default or current subject line.
CRM Integration: Rent Manager
A direct API integration is now available for Rent Manager.
Schedule Genie no longer appends "Schedule" to the "What language should be used to describe a scheduling?" field. Now enter the wanted text directly in this field.
Displays the current Call Us Now counts on the dashboard based on date range filters. This shows the number of widget clicks.
Lead Detail Page: SMS Consent
The lead detail page now includes a field in the "Customer" information section  labeled "SMS Message Preference." This field shows the current SMS consent.
Any widget(s) that send SMS messages now have an opt-in check-box located on the user information submission screen. The opt-in also includes the secondary required opt-in via text. SMS consent status will also be added in confirmation emails.
Adds a transparent space at the bottom of a webpage. When scrolling to the bottom of a webpage, space is created so the widget does not cover important elements including logos, etc.
A major step in Conversion Cloud implementation – Proofing Mode. This new functionality allows a user to implement, test, and update the widgets before displaying them on a communities' website.
Entrata API: Calendar Events
The Entrata API integration now creates calendar events in the Entrata CRM calendar.
For these API integrations Yardi, Enquire, and Entrata, a new test integration button is available.
When clicked it returns a "success" or "error" message. Users can immediately validate an integration.
Found at the top of TCC is a notification center that will display dashboard notifications.
New API CRM integrations now available: RealPage – Lead2Lease, Sherpa CRM, & You've Got Leads.
Live Chat: Settings Updates
Schedules: Updated the Live Chat page to use "Schedule" functionality. Now it can use a specific Chat schedule based on customer requirements.
Lead Notification Settings: Enabled "override lead notification settings" allowing users to send CallChatter leads to specific users and CRM integrations.
Lead Detail Page: Updates
New iconography and text to display what type of lead a user is reviewing. Also, updated functionality allowing a user to create multiple notes.
The weekly lead email now displays the lead type (Schedule Genie, Concession Manager, etc.) next to the lead name.
Website Header Notification Bar: Updates
Users can select the text color and bar color by directly entering a HEX color value.
TCC Widgets: Mobile Updates
For mobile-only, the widgets are reduced by 70% in size for better positioning and use of mobile screen space.
Improvements
Text Us Now | Call Us Now: Each application by default displays in the mobile view only. A user can enable web or desktop view if desired.
Lease Journey Visualizer: If a user submits to multiple widgets/applications in the same web session it now displays as one entry in the Lease Journey Visualizer for better user comprehension.
Widgets: Widget cache-control headers are off to disallow incorrect widget display.
Weekly Lead Notification Emails: Updated to display application then leads attributed to that application.
Income Calculator: Updated prospect email notifications using more generic language to allow for use in multiple varying industries.
CRM- Rent Manager: The Rent Manager integration now sends phone numbers to the CRM.
CRM Integrations: For all API integrations, qualification questions, and answers added to the comments section.
Unique Leads: when a prospect submits lead information through multiple widgets, TCC now uses email as the constraint. If the first or last name changes, the existing lead updates based on an email address. If the phone number changes then SMS consent changes to "No" until the prospect actively chooses "Yes."
Widget Colors: The widget hover color is now its own function. Users can set the widget hover color.
CSS Normalization: Updates to all widgets to improve website display.
TheConversionCloud.openWidget API: Ability to add the Concession Manager id to open a specific Concession Manager offer.
Export to CSV: While a CSV is generated the export button is disabled to stop extra file creation.
IE 11: Update to support the new widget spacer which allows website elements to be seen below widgets.
Company Phone Number: An error message now displays to support the proper entry and format of the phone number. Email notifications to prospects receive the user-friendly format for the phone number.
Manual Lead: Email notifications now only sent to property contacts.
SMS Appointment Reminders: The application now only uses one provisioned phone number if available.
Schedule Time Off: Entries are displayed in ascending order for better readability.
The Conversion Cloud v.4.0.95
What's New
Schedule Genie: There are two new fields in the customer notification email. The fields allow custom messaging for the first two sentences in the customer notification email.
Improvements
Company Filters: The companies list are sorted by active companies first and then inactive companies
Accessibility: Schedule Genie headings have the proper H tag setting for better HTML structure and machine readability.
The Conversion Cloud v.4.0.82
What's New
Schedule Genie: A user can now release/delete an appointment time in the calendar. In the Lead Detail page, change the "Status" drop-down to "Cancelled Appointment," and the time is released and available in the calendar.
Conversion Cloud Support: In the Conversion Cloud global navigation there is a link to support. Users click the link, and it takes he/she directly to our new support page. Users can submit issues, ask questions and read the knowledge base for product help.
Improvements
Schedule Genie: In the wallet theme only, the widget title text is expanded to use more characters.
MatchBack: Updated the PDF export to exclude the MatchBack table. This provides a better PDF file and increased readability.
Best Price Now: Updated Conversion Cloud application to use the JD Power Production API.
Conversion Cloud: Upgraded to Bit.ly 4.0
CSS Normalization: Updates to TCC CSS to improve widget display.
Notification Emails: For Conversion Cloud companies using an API integration, email notification is decoupled from the API integration. If the API integration attempts multiple calls only one email notification is sent. Previously each call sent another email notification.
The Conversion Cloud v.4.0.77
What's New
Dashboard: Optimize Query: Optimized the initial query that displays leads. This eliminates load time and allows the user instant access to the dashboard.
CLarity Update: A user can now select a specific company in the CLarity company filters to receive more informed results.
Customer Email Notification Header: Located in Company > Settings, a user can activate "Use company name in customer notification header.
This overrides the header default "The Conversion Cloud" with the company name listed in settings.

Check the box and all customer email notifications change and display the company name.
Improvements
Lease Journey Visualizer: Improved the table display of information to be efficient and display using the optimal amount of space.
CSV Import Button: Created a loader or spinner to indicate the function is working or in process.
CSS Style Normalization: Conversion Cloud hides all widget displays if the only active application is In-Sight.
The Conversion Cloud v.4.0.75
What's New
Lease Journey Visualizer: UTM data and URL Referral links are completely revamped on the Lead Details page. The Lease Journey Visualizer displays data points as understandable tags. Each prospect touch or session is an entry with its own tags to explicitly describe the interaction.

Tags include but are not limited to:

Touches
Notification messages including SMS
Conversion

In-Site: There is now a list of page urls where a page form is scraped.

For each page url there is a check box stating "Enabled." The enabled checkbox is active by default.
If the user deselects this check box, the page no longer has the form scraped.
Improvements
Company Settings: Before saving, all input field strings are trimmed on the company settings page. This removes hidden spaces or characters which can cause errors in the Conversion Cloud.
Company Filters: The CLarity company filters are refactored for use on the leads list and leads calendar pages.
The Conversion Cloud v.4.0.71
What's New
Concession Manager: The customer email section for "Contact Information" and the line "Ready to take action?" are now optional. A user can use a toggle to turn these elements on or off.
Leads List: The leads list "Export to CSV" now includes the below data in separate columns.

Business Category
Digital Marketing Area
Ownership Group
Property Management Company
Region
Improvements
Income Calculator:

For the required income question, the field now requires a minimum of 5 digits with a maximum of 9.
An error message displays if the incorrect amount of income digits are entered.

Company Filters:

Added a new filter that displays the full list of companies a user can access
Company Filter(s) session storage is cleared when a user is logged out.
Company Filters are refactored on the Clarity page to allow use on the leads list and leads calendar pages.
The Conversion Cloud v.4.0.65
What's New
Widgets: Draggable widgets "snap-to" page edges. When a widget is within 20 pixels of any page edge, it snaps to the edge. This prevents the widget from being dragged off the page. Also while dragging, the hard or square corners change to rounded corners. When the widget snaps back to an edge, the square corners return.
Release Notes: The Conversion Cloud website and platform now have release notes explaining the latest updates. For the Conversion Cloud platform, the release note link is located at the bottom of the black global navigation panel.
CLarity Updates:

In Lead Details, CLarity data and links are updated with tag style icons. These icons provide clear and explicit CLarity data.
Added new pie charts to show first-touch attribution, last-touch attribution, and multi-touch attribution.
Improvements
Concession Manager: The "href" attribute was added to allow the Concession Manager widget to be keyboard accessible.
The Conversion Cloud v.4.0.60
What's New
Widgets: Widgets are now "draggable" – our word. Enable the "draggable" function and move widgets anywhere on the screen. No more blocking important page elements.
CLarity: CLarity reports have filtering functionality. You can filter by categories including region or digital marketing area to get explicit and specific results.
CLarity Updates

Changed the Digital Market Area drop-down to type ahead reducing typing and searching.
Added the total leads at the top of each Clarity page

Schedule Genie: Prospects can update appointments in Schedule Genie. If he/she attempts to schedule a new appointment, and a future appointment exists, Schedule Genie directs them to update or change the existing appointment. This stops double or even triple booking by prospects.
Improvements
Income Calculator:

Question labels are updated to provide visual support to explain how the question is used.
The property management notification email now includes the prospect income.